With the ongoing COVID-19 pandemic, record-high heat, wildfires all around and apocalyptic skies, one would think no one would venture out of their homes. And traditionally, August tends to be one of our slower months with kids going back to school, travelers going on their final trips of the summer, and sellers waiting until after Labor Day to put their homes on the market for the Fall Season. But as with everything else, 2020 is turning out to be rather different.

In San Mateo County, the median sale price for single family homes hit an ALL TIME HIGH in August at $1.8 million!! The median sale price in Santa Clara county didn't quite reach the $1,454,000 peak in March of 2018, but the $1.4 million in August is still an impressive 18% increase compared to last year. The number of new listings in all categories in both San Mateo and Santa Clara counties increased substantially (16-65%) compared to last August, and the number of homes going into contract had a major increase as well of 25-39%.

On the ground, we've definitely seen increased activity all around, which can be a great thing for both buyers and sellers. With historically low interest rates, loans are taking a bit longer to close and lending standards have become stricter in certain cases, but everyone seems to be adjusting and houses are still selling. Things have become more challenging and fast-paced overall, so if you are thinking of buying or selling in the near future, be sure to contact me and don't try to navigate this market alone.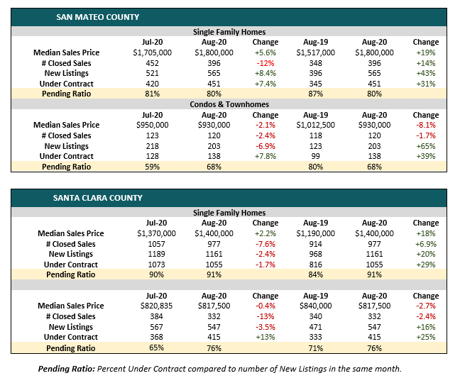 Rental Eviction Moratorium

On August 31st, the last day of the legislative session in California, the state legislature passed measure AB 3088, also known as The Tenant, Homeowner, and Small Landlord Relief and Stabilization Act of 2020. This was signed by Governor Newsom shortly thereafter and made effective immediately (September 1, 2020), and applies only to residential tenants, not commercial.

AB3088 consists of two main parts:
COVID-19 Small Landlord and Homeowner Relief Act of 2020
COVID-19 Tenant Relief Act of 2020

The COVID-19 Small Landlord and Homeowner Relief Act of 2020 extends anti-foreclosure protections in the Homeowner Bill of Rights to small landlords (who own 1-4 units that are non-owner occupied) if the landlord is an individual, the tenant moved in prior to March 4, 2020, and the tenant fails to pay rent due to loss of income due to COVID hardship. It also provides new accountability and transparency provisions to protect small landlord borrowers who request CARES-compliant forbearance, and provides the borrower who is materially harmed the ability to file a lawsuit.

The COVID-19 Tenant Relief Act of 2020 is more substantial. Here is an outline of the main provisions:
Provides protection against unlawful detainer actions (i.e. evictions) for unpaid rent for the period from March 1, 2020 to August 31, 2020 (the "covered" time period) due to COVID-19-related financial distress.
For the period from September 1 to January 31, 2021 (the "protected" time period), a COVID-19-impacted tenant will be responsible for at least 25% of the rents due for that period in order to receive such eviction protection.
Doesn't waive unpaid rent but instead converts that amount to consumer debt, collectible in small claims court as of March 1, 2021.
For all unpaid rent prior to September 1, 2020, landlords must serve tenants with a written notice with information about this Act and its provisions by September 30, 2020.
If a tenant does not pay rent after September 1, 2020, landlords must give a 15-day notice to evict instead of the previous 3 days. Note that this doesn't include weekends or judicial holidays.
In addition to the 15-day notice, landlords must provide a Declaration of Hardship Form that tenants must sign and return within the 15 days in order to be protected. No financial documents are required.
IF the landlord is aware that the household income exceeds $100K a year, tenants are required to provide documentation to support financial hardship.
Here's a link to the applicable forms from the state's website:
Landlord Notices to Tenants
Declaration of COVID-19 Related Distress

NOTE: This is just for general information and NOT meant as specific legal advice. If you have an issue with a tenant, we strongly recommend that you contact a real estate attorney before doing anything. Keep in mind that there are also local moratoriums that have been put in place by city and county governments as well.

If you own investment property or are planning to do so in the future, it's important to stay aware of the ever-changing landscape when it comes to landlord-tenant law in California. If you are currently managing your own property, you may want to consider engaging a property manager whose job it is to stay aware of these issues. And definitely, if you are dealing with any issues with tenants, be sure to speak with an attorney who specializes in landlord-tenant law and will be able to guide you properly.