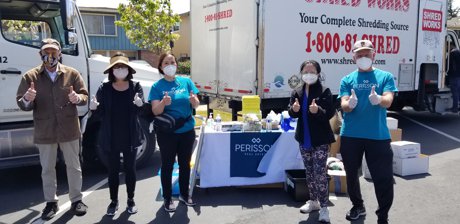 ...the more we develop an abundance mentality, the more we are genuinely happy for the successes, well-being, achievements, recognition, and good fortune of other people.We believe their success adds to...rather than detracts from...our lives.

Stephen R. Covey, Author of The 7 Habits of Highly Effective People
The name "perisson" (pronounced like "harrison" with a "p") comes from the Greek word for "abundance" and "overflow". We are committed to the principal of abundance and to building a company culture where all of our associates feel fully supported and not just judged based on their productivity. Perisson provides support and tools for agents to be able to consistently grow their business, even when "life happens" or agents get busy with transactions.
Perhaps the best thing about Perisson is our team atmosphere. We are committed to working together in the firm belief that we can all do better when we look out for each other. Because we hold to the principle of abundance, not scarcity, we can view each other as collaborators, not competitors. If this sounds appealing to you, we invite you to contact us to learn more.
Here are just a few of the ways in which Perisson supports our agents:
Branded website with MLS capability.
Weekly office meetings & ongoing training
RealGeeks CRM for managing leads, including drip campaigns & e-alerts.
Docusign Transaction Room Account
Full Transaction Support & Coordination
Professional Office Space & Conference Room for Client Meetings
Monthly sphere email newsletter written and sent on your behalf
Shared costs for Farm and Sphere marketing.
Company Seminars & Events